… And we're back: Margaret from her jaunt with some happy memories and a cold, and I from my break with – at last – a completed gansey. It's still to be blocked, but the cuffs are finished and all the ends are darned in and snipped off. So all we have to do now is wash it and pin it out, and hopefully next week you'll be able to see the pattern in its natural habitat. It might even be the right size; always a bonus.
Turned out, this was a surprisingly fiddly jumper to knit: partly because of the moss stitch running the length of the body, partly because I made the classic blunder for someone with my eyesight of knitting a dark yarn in the winter months without adequate lighting; and partly because the various pattern segments don't have regular, uniform repeats – so each bit of the pattern repeats on a different row, which means you have to concentrate. (And concentration, as we know, really isn't my strong suit…)
But the pattern is so effective, and distinctive with its stars and especially the "hanging diamonds" (or bunches of grapes or bats) under the yoke, that I'm glad I chose it. And somehow, like Patrington and Withernsea, I shall now always now think of it in conifer green.
Otherwise, the highlight over the last couple of weeks was a business visit to the archives of Dounreay nuclear power facility, perched on the north coast crags of Caithness. You're not allowed to take photographs, but basically the circular main reactor rises out of the flat terrain like an orange on a bookshelf.
There's more security than getting on a plane (they have their own armed police force), and once through the gates you can't be left unattended. They unsettle you brilliantly at reception, too, by playing a video about what do to in case of emergency (though it didn't involve losing your head and screaming like a baby, which is probably what I'd end up doing).
I don't know what I'd imagined – my only ideas of nuclear facilities were mostly based on James Bond films, which I appreciate may not be entirely accurate. It was a bit more lived-in than the usual Bond bad guy HQ, which always look brand new, as if they've just been assembled from an Ikea "supervillain lair" flatpack; but then Dounreay is older, and is in the process of being decommissioned. I used to live near a brewery in Northampton, and on the whole the site was broadly similar, with lots of large steel tanks and pipes and men in hard hats and dark glasses with machine guns (just like growing up in Northampton, in fact). All in all, it came over as a very professional, very calm, very competent – exactly what you'd hope for, in fact.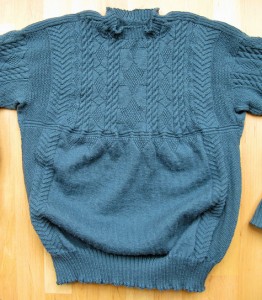 They have a small museum, and I got to handle one of the old fuel rods. In the movies these always seem to be the size of Nelson's Column, immersed in a tank of sinister bubbling liquid. This was about the size of a rolled-up umbrella. Another illusion shattered.
The archive is expertly managed, and consists of thousands of boxes of files and papers in several strongrooms, all under heavy security. The records have to last at least as long as the nuclear material, and there's an interesting question here about how you keep records for thousands of years. Modern paper is too highly acidic to last – just leave a newspaper on a windowsill – and electronic records change so fast they're obsolete in no time (where do you insert an old floppy disc in a modern pc?).
Fortunately, I can leave these problems to older and wiser heads, while I revel in the luxury of no knitting deadlines and start to plan the next gansey. Something Scottish, I think. And definitely in a lighter yarn, like cream; i.e., a colour where I can actually see the pattern. I've been told that the Caithness summers are dazzlingly bright, but for now the dial is still set on "gloom" and I'm not taking any chances…