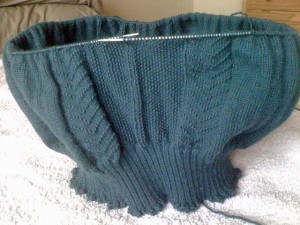 So, Halloween. Many people in Britain get annoyed that the American tradition of "trick or treat" has become commonplace over here, displacing native customs like the grey squirrel driving out the red. So I have already started the time-honoured response by boarding over the doors and windows and electrifying the door knocker, while seeding the doormat with landmines (the Tescos superstore really does have everything).
But I was interested to learn that Caithness has its own variant of the festival, called "Kickie Doorie". This happens on the night before Halloween, and cleverly avoids giving the victim a choice. Instead, gangs of children go round playing harmless pranks, like egging houses and cars, setting fire to bags of poo, and smearing baked beans on cars and windows. (This was told to me with an air of civic pride, which may be the most worrying thing I've experienced since I came to Wick.)
On the gansey front, eagle-eyed readers may notice a tragic falling-off in the quality of the photos this week. This is because Margaret has returned to Edinburgh with her trusty camera, leaving me to fend for myself with an aging smartphone and no talent. But hopefully you can see progress from the chevrons, which are slowly accruing like tree rings. My only problem now is that we re-wound the 500g cone into a ball, and after a trouble-free few weeks I've reached the stage where it keeps snarling up into a massive tangle, like someone's dumped an enormous pan of cold green spaghetti into my lap or I'm being attacked by a carnivorous plant from outer space. Imagine someone laying out a giant jellyfish to dry in their living room and that will give you the general idea of my technique for dealing with it.
Special thanks to Sue for permission to show a gansey she knitted for her brother in our "Reader's Gallery" – looks pretty splendid, doesn't it? Congratulations to artist and model!
I've been asked if anyone knows an American supplier of guernsey 5-ply yarn. Any suggestions? [a quick Google reveals that Kirtland's Yarn Barn in VA carries Frangipani, as does Churchmouse Yarns & Teas in WA, and Handknitting.com in WY has Wendy Guernsey 5-ply – admin.]
Highlight of my first couple of weeks at work so far is the time when the cleaner came in on the day we're closed to the public and I was on my own, and she decided to set the alarm on her way out – so when I stood up all the alarms went off. And the key to the alarm cupboard was downstairs in the library, which was (inevitably) empty and locked (though it is, bizarrely, guarded by a genuine 100 year-old stuffed crocodile all the way from India). Picture me standing there like Oliver Hardy covered in whitewash, looking into an imaginary camera, with a curious persistent ringing in my ears.
Right, time to get the alligators (Snappy and Chompy) out of their crate and into the moat, and then I think my Halloween preparations are complete. All I have to do is try it out by phoning for a pizza delivery, and then we're in business…