A couple of months ago I received a letter from the hospital, saying that they were conducting a clinical trial into hypertension, and would I like to take part, on the grounds that my blood pressure was so high I should avoid cutting my finger in case I burst like a balloon popped with a pin. Well, I thought, at least I'd get a free medical out of it, and anyway my encounters with hospitals usually involve someone saying things like, "I've never seen one like this before" or "Are you sure it's supposed to be that colour?", so I thought this might be more fun.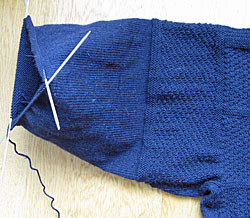 Last week I duly toddled along and was met by a very nice nurse, and we got down to it. I signed various consent forms, told them where I'd like my ashes scattered (into the coffees of my late employers when they weren't looking), stood on various scales, gave various coloured samples (chiefly red and yellow, since you ask), and after 45 minutes was having the home blood pressure testing kit demonstrated on me.
This was where events started to take a left turn. For it turned out that my blood pressure wasn't high at all – it was bang in the middle of where it ought to be. The nurse decided on a "best out of 3" approach, which finally became a "best out of 9", standing and sitting, before she finally admitted defeat. My blood pressure was too normal to allow me to take part in the trial. (I don't know if you've ever had your blood pressure taken 9 times in a row on the same spot – it's rather uncomfortable. Not unlike being gummed to death by an elderly manatee who's lost his teeth and mistaken you for a clump of unusually tough algae, I should imagine.)
Is there any reason, the nurse asked me, why your blood pressure should have come down in the last couple of months? Well, I said, I've lost over half a stone by only eating food I don't like, and I no longer work in a stressful job for mad people. (Ah, she said in a defeated tone, that would do it.) So there I am:  too healthy for the National Health Service. I always suspected giving up work was a good thing, but now it's medically proven.
Back at the knitting: as you will see, rapid progress down the sleeve this week. Now the gusset's been decreased into oblivion I'm working down the sleeve at a decrease of 2 stitches every 7 rows. (I've adopted this rate because the sleeve was quite narrow anyway, and I don't want it to be too tight in the forearms. But I won't really know how well it works till it's finished.)
The other thing to bear in mind at this stage is constantly to change the join points between the double-pointed needles. If you always have the join points between needles at the same places you end up with 3 columns of uneven stitches (or at least I do, since I tend to knit the join stitches at a slightly different tension to the rest of my stitches, try as I might). But if I do as the books say, and move it along by one stitch per row, I replace the columns with 3 diagonal scars running round the sleeve. So my solution is to knit 3-7 rows with the joins in the same place, then move them on by 5-10 stitches, varying the amounts randomly in an attempt to fool the eye. It's my knitting equivalent of soldiers breaking step to march over a bridge.
Finally, this weeks' bread is a sourdough pain de campagne, 80% white flour blended with 10% each of wholemeal and rye. I forgot to put the trays in the oven to heat up first, so instead of rising from the bottom it rose from the top! I'm wondering if I can use this technique to bake edible bowling balls that come with the finger holes baked in…