Ha, luckily I never claimed to have much of a short-term memory!
You see, I've been back in Edinburgh this last week (for work), and I thought I might as well bring my knitting with me, even though it's now as big and unwieldy as a medium-sized orang-utan. I carefully packed my bag, making sure I remembered everything (charts, needles, tape measure) … the only problem was, I forgot the extra yarn, which I set aside specially. Turned out I just had enough wool to finish the collar, and to pick up stitches around the edge of the sleeve (D'oh!). Not my finest hour, as I prepare to pack my bags once more and head back north.
Wick airport is rather sweet. It's one big room, really, with a bell to ring when you want to check-in your bags, like hotel reception. You get a good view of the runway from the departure lounge, and it was with great delight that I saw the stewardess notify the attendant there that they were ready for boarding, by coming out onto the top of the steps to the plane and giving her a thumbs-up and a big grin. I even got to watch them slinging my bag into the hold, causing me to regret buying all those duty-free eggs.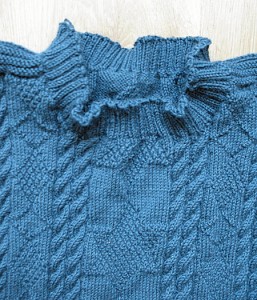 The plane was so small I think it was remote controlled by some retired guys down by the harbour. I watched the undercarriage descend as we came in to land, and for the first time saw the puff of smoke as the tyre touches the tarmac, which was fun in an oh-my-god-we're doomed kind of way. All in all, 50 minutes from Wick to Edinburgh beats the 6 hours' drive hands down (though the £180 fare not so much – at least I only live fifteen minutes' walk from the airport, so I save on taxis).
And like a sailor on shore leave I've been bingeing, though in my case I've been frequenting coffee shops instead of taverns and brothels, trying to get as much overpriced caffeine into my system before Starbucks and Costa fade into just another memory; the nearest branches to Wick are in Inverness, 100 miles away, and I know people who will make a weekend of it just for the coffee. (If you want to be really cruel to someone in Caithness, just walk up to them and whisper "Starbucks" softly in their ear, and you'll see their eyes grow dim and fill with tears, and their lips will form the word silently, like Charles Foster Kane remembering his childhood sled, or a Joss Whedon fan who's just been reminded that Firefly was cancelled prematurely.)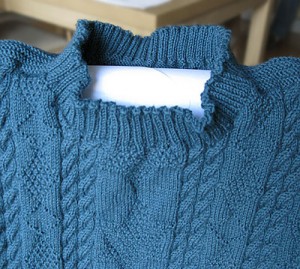 Where was I? Oh, yes, knitting. Well, the collar only took a couple of days to finish. With the shaping at the front I had 5.5 inches to pick up on either side, which equated to two lots of 59 stitches. All in all, I had 204 stitches around the neck, or 21 knit 2 / purl 2 ribs. I knit 12 rows, or an inch, before casting off in pattern before I ran out of yarn.
Also on the subject of knitting, many congratulations (and thanks) to Judit who has given us permission to add a picture of her latest gansey to the Reader's Gallery. It's a Sheringham pattern in cream, and very effective it is too. (It's a pattern that always reminds me of lots of crabs moving in formation, or sand dunes, which is appropriate, I guess.)
Right. One more meeting on Monday and then it's back to Wick on Tuesday. Time to man up and start picking up those stitches round the sleeve…