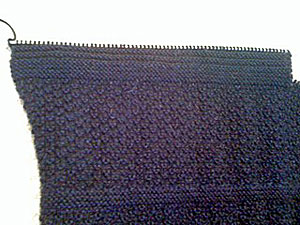 Being a man of my word, at least when it suits me (or when I can actually deliver on my promises), I am delighted to say that I've finished the front and joined the shoulders, as forecast last week. It was touch and go, actually, as I got rather sidetracked, but more on that later.
Back in the day, I used to get to the shoulder straps and then split the front in three sections – left shoulder, neck and right shoulder; I would then work back and forth on straight needles to complete one front shoulder strap, then do the same to complete the other front shoulder strap (leaving the first shoulder strap on its needle) and only then would join each one with its counterpart on the back.
These days I've modified my technique, so that I join each shoulder as soon as each front strap is completed. Let me explain. I divide the front in three as before, and I work back and forth (as before) to complete one shoulder strap; but now I join it to its counterpart on the back straight away, casting off in the usual way. Then I go back and complete the other shoulder strap and join it to the back counterpart and cast off.
It's a subtle distinction, but it means I'm not trying to knit the second shoulder strap while the first one is left hanging on its needle (and given that back and forth knitting means you're constantly turning the gansey face up and face down, and with the back dangling loose, the overall effect is like trying to tango with a corpse). It also means you easily can cast off with the yarn you've been knitting the shoulder strap with. Anyway, just the collar and the sleeves to go now.
As I said above, I've been sidetracked this week. An old chum reminded me that some time back I promised to let him see some short stories I'd written (hi Jan!). I dug out the stories and sent them off to him, but read a couple first, for the fun of it. Rather to my surprise, I found they weren't as bad as I remembered. Some of them were almost acceptable. And that sent me back to one of the novels I wrote a few years ago. It was a deliberate attempt to write the sort of story I'd have loved when I was younger and still had hair, a Christmas fantasy story which I recall describing as a cross between Alan Garner, Stephen King and Ted Hughes, a story with wolves and snow, magic and legends, battles and monsters – but set in the present day, not a faux-medieval Tolkienesque Middle-earth.
Maddeningly, it's not (quite) good and it's not (quite) awful. If it was great I could rest easily; if it was dreadful I could just throw it away and we would Never Speak Of It Again, like Aunt Mildred's elopement with the second under-gardener. So I've started going through it, editing it, stripping away the useless verbiage and pruning ruthlessly (as I had to while we were between under-gardeners). The draft stood at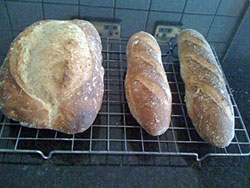 135,000 words: I've resolved to get it down to perhaps 75,000. (They say you have to "kill your darlings", i.e., get rid of any fancy writing that gets in the way of the plot; if you open your windows and listen carefully, you'll hear my darlings' death cries cries fading on the wind…)
Finally, if you bake bread, the books recommend that you develop a "signature bread", one that you bake most of the time, and which you know intimately and can guarantee will work. This is mine, a basic French white bread which I make into batard loaves and mini baguettes (baguettettes? baguettinis?). It's very easy to make and results in a moist, sticky dough, which, if handled carefully, will produce a very light, open crumb and and some big, airy pockets (the cavernous hole in the picture is a good example). Cooled, but still warm from the oven, this bread is even better than chocolate. (That's right. You heard me.)