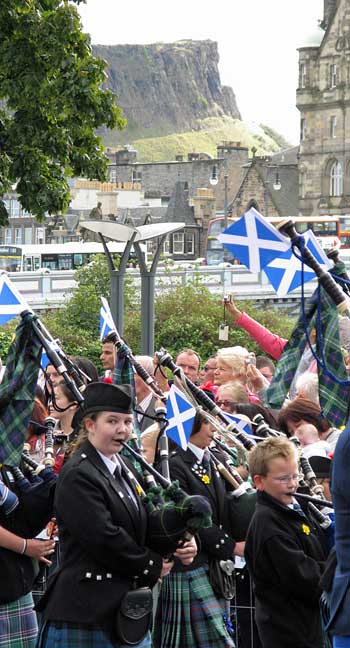 And so Edinburgh has hosted a state visit by Pope Benedict XVI, which by all accounts went very well – even if the church and the Government between them had to invent a new festival around which to celebrate his visit (as far as I can tell, this was the first time St Ninian's Day – 16 September – had been favoured with a parade; or celebrated; or even publicly remembered).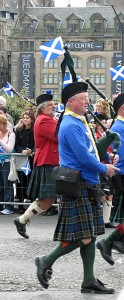 Other memorable events on that day include the declaration of Owain Glyndwr as Prince of Wales in 1400, the sailing of the Mayflower in 1620 and the release of "She Loves You" by the Beatles in 1963. But I guess none of them have that much resonance for the Catholic church, unless the young Cardinal Ratzinger was a Beatles fan – which seems unlikely – so I guess St Ninian's day was the logical choice.
I didn't go down to watch, even though it was only at the end of the road (which reminds me of the great quote by Bill Shankly, manager of Liverpool, about the city's other soccer team: "If Everton were playing down the bottom of my garden, I'd draw the curtains"). But this was no New Atheist boycott – I just don't like crowds, and as the parade only consisted of (a) marching bands of pipers, (b) lots of schoolkids from schools associated with St Ninian, and (c) after a delay, the Pope in his popemobile – it didn't sound all that spectacular.
Margaret went down for a look, and was favoured by a glimpse of the Pope skimming past at a surprisingly brisk pace. (As a friend of mine who watched from the windows of the National Archives remarked, "He's not going to sell many ice creams going at that speed".) I cheated and ended up watching some of it on tv (I know, I know).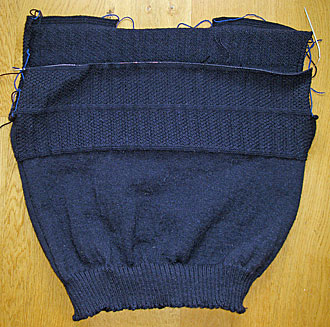 Meanwhile, on to secular matters. Work on the gansey continues apace; as you will see, after finishing the back last week, the front is halfway complete now. My aim to complete it and join the shoulders by next weekend. (We'll see.) I've just finished by 7th ball of yarn, too, so I know I've used 700g of gansey wool so far.
I've deliberately coordinated the way I knit each row. Because I'm knitting back and forth, that means I knit one row with the front side facing towards me, and the next with the reverse facing towards me. Now, because the pattern calls for alternating plain knit rows and pattern rows of knit 2/purl 2, I've arranged it so that each knit row comes when the front is facing towards me – so I can actually knit it with a row of knit stitches, which is faster and easier than purl stitches for me; while the pattern row – which would be the same effectively whichever way it was facing – comes on the reverse side. (Clever, eh? Well, not really, but it makes quite a difference over 8 inches of patterned yoke.)
Finally, here is my latest malted grain ("granary") loaf, a little burned on top, but with a nice, open crumb. Not a sourdough this time, but using Peter Reinhart's suggestion of basically making half the dough the day before and leaving it overnight in the fridge to rise, resulting in a richer flavour and a moister texture.