So, there's the back finished, and the accompanying shoulder straps. On the whole, the pattern is coming out more strongly than I'd imagined – especially in strong light – and the pattern bands are deep enough to really allow the eye to catch the diagonal lines. So no need to rip this one up after all!
The gansey is a wide one, 47-48 inches probably, or 212 stitches each for the front and back (not counting the 2 seam stitches). So I've followed tradition and divided it into thirds for the 2 shoulders and the neck (or 71 stitches for each shoulder and 70 stitches for the neck – since 212 doesn't exactly divide into thirds). The shoulders are the good old "rig and fur" ribbing, my default shoulder pattern.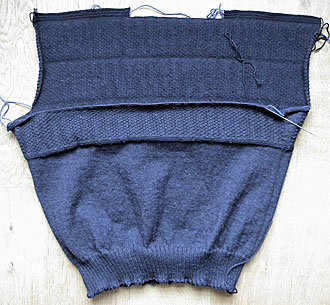 By the way, the more observant among you will have noticed that this is a half-patterned gansey, i.e., a plain body and a patterned yoke. Traditionally the yoke and the gussets would start together, halfway up the body. Now, I still want to follow this principle, but given that my ganseys tend to be a bit longer than the old ones were, there's a complication: half of 27 inches is 13.5 inches, and that might result in a deeper armhole than I want.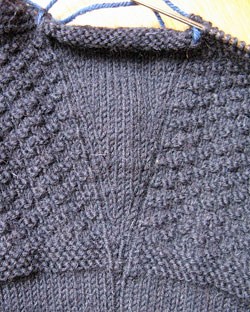 Since I want this gansey to be as traditional as I can make it, I've decided to go ahead and start the gusset and yoke at the halfway point; but in order to ensure that the armhole isn't too deep, I'm making the gusset longer instead of the armhole (which will be just 8 inches plus the shoulder strap). And in order to ensure that the gusset doesn't become too wide, I've increased once every 5th row (instead of every 4th row, as is my usual practice). The result is a longer, narrower gusset than my ganseys usually show. I just need to remember that the gusset will extend further down the sleeve than normal, too, so I'll have to be careful about my rate of decrease when I get to that point.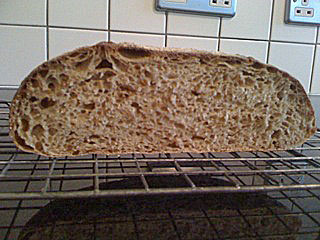 Meanwhile I've been continuing my experiments with sourdough bread. I tried a wholemeal loaf that came out well, but was perhaps a little dry; so my next attempt was a granary loaf with extra water. Well, somewhere down the line I miscalculated, because the dough was so wet that it didn't so much rise as flow stickily, and my attempts to knead it resembled nothing so much as someone scooping up vomit off the counter with their bare hands. From a distance it must have looked as though I was wresting a particularly tenacious jellyfish, and losing. Still, one of the advantages of wet dough is that it can rise nicely in the oven, and result in a ciabatta-like texture, which was the case here, so I'm counting this one as a success. My new invention – pain de dégueulis.
Finally, yesterday, 12 September, was the centenary of the first performance of Gustav Mahler's Eighth Symphony, his great explosive celebratory hymn to life and love and the mysteries and splendours of God's creation. I have no idea whether God really exists or not – even Richard Dawkins admits there is a possibility, however remote – but listening to this great symphony, as so often with Mahler, I'm prepared to give Him (or Her, or It) the benefit of the doubt…